Marcious Dickerson
Marty Dickerson began his career as a Financial Coach in 1982. He received his Bachelor's Degree from Wayne State University and studied personal financial planning through Oakland University.
Marty is a Registered Principal and a Centaurus Branch Manager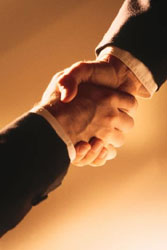 and holds the following licenses and designations:
Registered Principal
Registered Representative
Life and Health Insurance License
These designations help him give sound financial planning advice to his clients.
Marty teaches retirement planning classes at the following area institutions:
Henry Ford Community College - Center for Lifelong Learning
Livonia Public Schools - Department of Community Education Enrichment
Marty has dedicated his career to providing advice and professional financial guidance to his clients. He specializes in creating comprehensive financial plans that fit their unique needs and enables this clients to meet both their short and long term objectives. His mission is to provide his clients with a clear understanding of their financial goals, and a well-defined roadmap for achieving those goals.
Marty and his family live in White Lake, MI. He and his wife, Shelley, have a beautiful daughter, Victoria, who was born in January 2004. They also have a German Shepherd, Luke. Marty enjoys hiking, mountain biking and boating. He and Shelley spend much of their time enjoying outdoor activites.